York Hotel
York Hotel, one of Toronto's earliest hotels, and one that was considered, for many years, the best hotel in the province was on land now occupied by The Sun Publishing Building. Paul Marian, a Frenchman who had a bakery in the area, built the hotel in 1805 on one of original town lots surveyed for the Town of York.
It was a frame and clapboard storey and a half building, with dormers on the roof across the front. With its steep roof and six dormers it resembled buildings in Quebec. Marian did not himself run this hotel, he did have a large circular brick domed oven at the back from which he supplied the hotel with baked goods. This oven survived longer than the hotel and was still in use in the late 1830s, baking bread for the militia. Scadding wrote that members of the legislature and the upper social classes had public dinners and "fashionable assemblies" at the York Hotel, although its ballroom and dining room were not very large. He also remarked that the windows and doors were smaller than his own. Marian died in 1806 and in 1809 his widow, Jane, married John Jordan, who operated the hotel and tavern until his death in 1819. In 1813, after the Americans had destroyed the legislative buildings, members of the legislature met at Jordan's hotel for one session while a new brick building was being erected for them. In front of the hotel the first paving of King Street was done, using flat stones from the lakefront nearby.
Widowed again, Jane ran the tavern for a while herself, and later leased the property out. Subsequent owners of the hotel were John Martin and Morris Lawrence. By 1846 it was no longer in use at all and was demolished. Most of the information about the York Hotel came from "A Glimpse of Toronto's History" MPLS 099.
Sun Publishing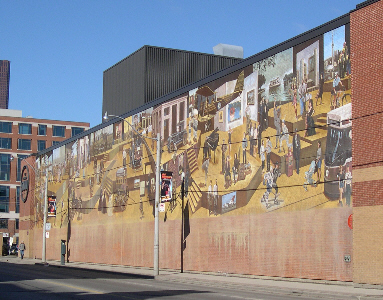 The Sun Publishing Building east of Princess and between King and Front is built on the site of The York Hotel. The Toronto Sun likes to say that it is "The Little Paper That Grew rose from the ashes of the Toronto Telegram newspaper." After a time of financial woes the Toronto Telegram folded on Oct. 30, 1971 and on Nov. 1, 1971: The Toronto Sun was born, publishing Monday to Friday. By Sept. 16, 1973 there was a Sunday Sun. On its 25th anniversary an editorial stated: "There's been some bumps, several ownership changes, even a change to a smaller page size along the way, but today the Sun chain of newspapers stretches across the country and readership is counted in the millions each day."
The Mural on the south side of the Sun Building showing Toronto transportation through time is well worth examining. It was commissioned by the Toronto Sun as part of the bicentennial of the founding of The Town of York in 1793. Toronto artist, John Hood, has created a 55 m. long, by 7.6 m. high mural on this wall entitled "History as Theatre, 200 Toronto Years." In thirty-two vignettes it highlights both historic and contemporary episodes over the city's lifetime. They start in the time before the arrival of European explorers, when only the native Ojibwa, Huron and Iroquois lived in this area and end with scenes from Toronto's recent history. The Sun has a reprint available for those interested of the original article on this mural by Mike Filey, which is also available on the web here