This house was set well back from Queen Street north of Taddle Creek, on a slight rise. It was an attractive two-storey brick dwelling with a large veranda looking out over acres of well-kept lawns and gardens. Black walnut panelled the interior. The drive from Queen Street ran over a bridge across Taddle Creek, past hazelnut trees, to a circle at the front door. The trees, and the little burn (creek) that ran through the property, gave it its appealing name. The lane later became part of Jarvis Street. See also map on Moss Park page. Samuel Jarvis engaged John Ewart to build Hazelburn in 1824. Ewart later constructed Osgoode Hall and Upper Canada College.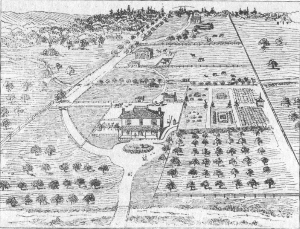 William Jarvis, Samuel's father, was a United Empire Loyalist who served under Colonel Simcoe during the Revolutionary War. When the family's property in Connecticut was confiscated, he left for England. Simcoe appointed him Provincial Secretary and Registrar of Records; however, he was not very effective so Peter Russell curtailed his duties and income. While William Jarvis received park lot 6, he preferred to live in town in his comfortable house at Sherbourne and Adelaide. When he got into legal difficulties, he turned over his real estate to his son, Samuel Peters Jarvis, who served in the militia during the War of 1812 before becoming a lawyer and clerk of the Crown. Sam took over the post vacated by his father and cut down original pine stand that covered the southern half of the property around 1822 to built his home, Hazelburn in 1824. Beyond the stables was wild bush where the family enjoyed excellent trout fishing. The Jarvises were renowned for their hospitality, and often held readings, musicales, and theatrical performances in which friends and neighbours took part.
In 1837, Samuel was appointed Chief Superintendent of Indian Affairs. Five years later, a commission of inquiry investigated his department's activities. Jarvis was dismissed in 1845 after an audit showed he personally owed the government £4,000 . With seven children to support, Jarvis hired John Howard to Survey his property for subdivision, and started to sell lots. Howard laid out Mutual and George Streets, as well as Jarvis Street, a grand, eighty foot wide avenue with sixteen-foot boulevards. As the house stood in the middle proposed street, it was torn down in 1847. Colonel Carthew salvaged the walnut panelling for his house, Lawton Manor in Deer Park. In 1857, Samuel Peters Jarvis passed away.
The south end of Jarvis Street had small lots for working class housing. The lots grew in size as they approached Bloor, where substantial one acre parcels sold for $500 each. Here Toronto's industrial and mercantile elite: the Cawthras, the Masseys, the Mulocks, the Flavelles, and the McMasters, built their mansions. The 1878 Illustrated Historical Atlas of the County of York declared: "Jarvis Street is the handsomest avenue in Toronto and cannot perhaps be equalled on the continent. The well formed road, the boulevarded borders, and the delightful villas with their well ordered grounds, present to the eye a very attractive picture." It is said that Jarvis Street had three names. In the southern working class area it was known as "Jervis"; in the centre Jarvis and near Bloor Street, "Jahvis".
By the 1920s, fashionable society had moved on again, this time to Rosedale, Forest Hill, and Bayview. The face of Jarvis changed significantly as a result of the demolition of many fine houses following the Second World War.
Information from "The Estates of Old Toronto," and "Original Toronto."