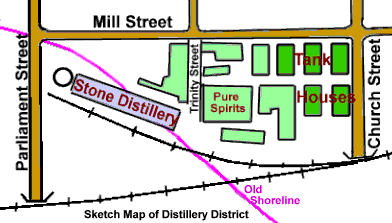 This area, now filled with galleries, boutiques, restaurants, artist studios and workshops, was at one time the largest distillery in the British Empire. The forty plus buildings are best preserved collection of Victorian Industrial Architecture in North America.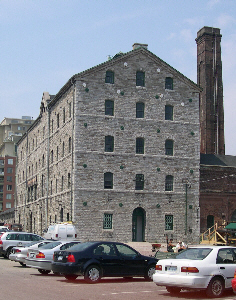 The Stone Distillery building built in 1859 is the oldest of the existing structures.
In1831, James Worts arrived, from Yorkshire to establish himself as a miller in the Town of York. He built a 21 metre high windmill on the lakeshore near the mouth of the Don River. This was probably the last large working windmill to be built in the province and became a landmark, the CN Tower of its day. It served as a waterfront landmark and position marker for sailors on the lake for nearly 25 years. The Windmill Line, established in an attempt to limit expansion into the harbour, was named for this structure which was its eastern end. It is still used by surveyors. Steam power replaced wind power in 1845, and in 1853 the windmill's wings were removed. Six years later the windmill was demolished. It was located on the west side of Trinity Street, north of the grey stone distillery building. For more about this windmill see "A Glimpse of Toronto's History" MPLS 156.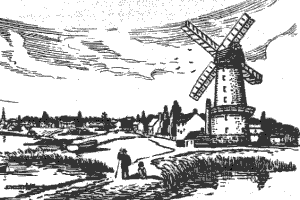 James Worts' bother-in-law, William Gooderham, arrived in 1832 to join him in the milling business. In 1834, depressed because his wife had died in childbirth, James committed suicide. William Gooderham, took control of the factory and re-named it Gooderham and Worts. The "Worts" was for James' eldest son, James Gooderham Worts, who inherited his fathers' share of the firm. In 1837, with a surplus of wheat, they tried their hands at producing beer and whiskey. The Gooderhams became experts at making good tasting beer and alcohol and, as a result, very wealthy. By 1871, the Gooderham & Worts distillery produced almost half of Ontario's total spirit production and exported its whisky and spirits to Canadian and American markets.
The Gooderham and Worts distillery was not the only one in this area. In 1856, the directory records that Julia Riordan ran a dairy and distillery on the south side of Front (now Mill St.) east of Parliament near Cherry. In 1867, William Thomas FitzHenry is listed at 61 Little Front Street west of Cherry, operating a distillery founded in 1855. He was leasing the property from Mrs. Riordan. The operation was advertised as employing eight hands and an engine of 25 hp, turning out 250 gallons per day, or 80.000 gallons per year. In the next year, his advertisement in the directory calls him the proprietor of the York Distillery, making pure spirits, old rye, malt toddy, and domestic whisky. Mrs. Riordan had died and her heirs sold the lot and business to Gooderham and Worts in January 1877. The York Distillery had vanished into history. For more about this enterprise see "A Glimpse of Toronto's History" MPLS #186.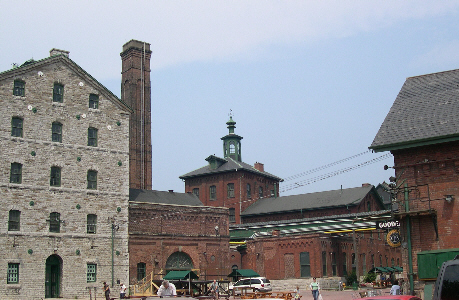 Historic Buildings on Trinity Street
In 1843 William Gooderham, built the Little Trinity Church on King E because at the time St. James Cathedral at King and Church used to charge a pews fee and many working class Anglicans couldn't afford to pay it. As their fortunes grew the Gooderhams beginning in 1885 started to build worker-cottages on Trinity and Sackville Streets, but continued to live nearby their workers in a house on the north-west corner of Trinity and Mill Streets. In the late 1800's Toronto become more class conscience, so in 1889, George Gooderham, who had taken over the family business from his father William, built the impressive Annex mansion at the on the corner of Bloor and St. George, which is still standing as The York Club. George developed the business into a financial and commercial empire and become the richest man in Ontario. As the distillery flourished he enlarged its facilities and expanded his other interests to included the Toronto and Nipissing Railroad, Manufactures' Life Insurance and philanthropy. In 1891, desiring grander office space, he commissioned David Roberts Jr., to construct the Gooderham "Flatiron" Building, at Front and Wellington. He died on May 1st 1905.
With changing times and the Prohibition era, the distilling business fell on hard times. In 1924,the Gooderhams decided to sell their controlling interest and by 1926, the Gooderham & Worts Distillery was merged with the Hiram Walker Company as Hiram Walker-Gooderham & Worts Ltd. Small amounts of Gooderham & Worts-brand whisky and rum as well as antifreeze continued to be produced at the Toronto distillery until 1990. Few other concerns can match this length of time operating on the same site for close to 170 years.
In late 2001 Cityscape Development Corp. and Wallace Studios purchased the property for $15 million, and began a massive restoration and development. The 13-acre site, complete with forty-five 19th century buildings, has become a picturesque, pedestrian only village housing over a hundred tenants. The Distillery is filled with activity day and night with live music, outdoor exhibitions, fairs and special events the year around. It has been the location for over 800 film and television productions in the past decade, including Chicago, X-Men, Against The Ropes and The Hurricane. Numerous festivals and special events attract tens of thousand of people each month.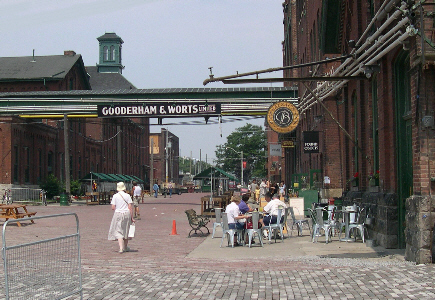 A quiet day on trinity Street
For more about the Gooderhams, their buildings and other interesting people and buildings in old Toronto, see Bruce Bell's History Project. One can find more information about this area at www.thedistillerydistrict.com.