Toronto Athletic Club Building
Also called Stewart Building
Architect E. J. Lennox built 149 College Street for the Toronto Athletic Club in 1894. It was equipped with Toronto's first indoor swimming pool. It is now owned and occupied by the Ontario School of Art and Design.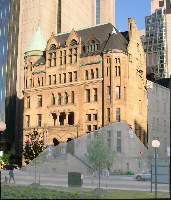 John Beverley Robinson, sportsman, army officer, lawyer, businessman, politician, and lieutenant governor, was born 20 Feb. 1820 in York, Upper Canada. On June 30, 1847, he married Mary Jane Hagerman. They had three sons and two daughters. He died June 19, 1896, in Toronto. Robinson was said to Toronto's best boxer in his day. He started the Toronto Athletic Club in 1891 and served as its president until 1895. He was appointed as Lieutenant Governor of Ontario in 1880. In 1887 he retired to his Toronto home on College Street, near University Avenue, Sleepy Hollow, which, fittingly, overlooked the city's cricket grounds. It was on the site of this building.
Use BACK arrow to return to where you were or click for
Points of Interest Index or Lost Rivers Index Page.