by Audrey Hutchison Fox
Their names live on in the streets of the neighbourhood: Frank, Turner, Conrad, Rains and Ashworth; and a plaque in Hillcrest Park commemorates the Turner Family and their house on the Davenport escarpment. Those are the only tangible reminders of a once wealthy and prominent family that surely hobnobbed with the elite of Toronto, yet we find little about them in history books.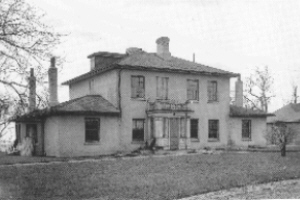 Bracondale Hill (1847 - 1937)
Our story begins in England with the birth of Robert John Turner, May 12, 1795; he was the seventh of eight sons born to Richard and Elizabeth Turner. (Richard was the Minister of St. Nicholas Church, Great Yarmouth for 30 years and Richard's father, Francis, was minister of St. George's Chapel, Great Yarmouth, for 48 years.) Richard outlived three wives. He had children with only his second, Elizabeth Rede, whom he married in 1783. When Elizabeth died in 1805 at 38, she left the eight boys aged 21 to seven; Robert John was 10. All the sons distinguished themselves. Richard was a judge and magistrate in Agra, India; Francis, a barrister; Thomas, a Captain; Joseph, a minister; Sir Charles, a knighted Member of Parliament; William, an Envoy Extraordinary to Colombia; and Sir George, a knighted Lord Justice.
Robert was educated as a classical scholar and became a barrister. About 1833, at age 38, he emigrated to Canada, first to Brantford and later Kingston. In Kingston he practised in the Chancery Courts. We don't know when he married Maria Patrick but they had four children: Mary Emma ("Polly") born in 1837; Frank Edwin Prince (1838 in Brantford), Robert Charles (1841) and Maria ("Trottie"). In 1843, Maria died leaving children ages six, five, two and, probably, a new-born Maria. When the Chancery Courts moved to Osgoode Hall, Toronto, Robert moved his motherless children to a rented home on Richmond Street described in Landmarks of Toronto as "one of the fashionable houses of York". Robert became referee of titles and accountant- general of the Court of Chancery, Osgoode Hall.
Robert purchased a large piece of land to the north and south of Davenport Road; on the finest five-acre section, on the crest of the Davenport hill, he carved an estate from the ancient oak forest. It included several buildings, an orchard, a large market garden, stables and a Georgian-style home he named "Bracondale Hill". Robert also found a new wife and a mother for his four children; on December 26, 1846, he married Nura Dorothea Rains, widow of Walter Rose, in St. James Anglican Cathedral. The next year the family moved into "Bracondale Hill".
The elegant stuccoed house was two and a half storeys with a hipped roof; a "belvedere" let light and air into the third floor. The north-facing front door was enclosed by a small but elaborate wooden vestibule topped with a railing. The south side, facing Lake Ontario, had floor-to-ceiling doors on the ground floor that opened to a large verandah. To the east and west were one-storey wings. The home must have been quite cozy as it had two double chimneys and at least three single ones.
The ridge was a formidable barrier in those days and only the wealthy could build large homes there. John McGill's "Davenport" (1797 ), Dr. William Baldwin's "Spadina"(1818) and Augustus Baldwin's "Russell Hill" (1818) were the first homes on the hill‒the families were likely glad to see a new neighbour not far to the west, especially as Robert was politically and socially acceptable: a "Baldwin Reformer", Englishman, barrister and staunch Anglican. Robert was surely relieved to move his family to the countryside. Disease was rampant in the city (typhus alone killed more than 1,000 people in Toronto that year) and early settlers believed in the health-giving properties of the air on Davenport mountain.)
In 1848, Nura gave birth to George Richard, the first of three sons. A year later the downtown core of Toronto was destroyed by fire. One can imagine 12 -year-old Polly, Frank, 11, Robert, 8 and Trottie,6, watching the devastation from the upper floors of their home. In 1850, Thomas William was born and, in 1852, Charles Conrad Turner (the last of Robert's seven children.) The oldest boy, Frank, was now 14 and a student at Upper Canada College. He probably left the escarpment each morning and rode into the city with his father. (The school was then on King Street, about where the Royal Alexandra Theatre now stands.)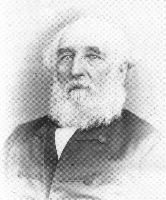 Robert Turner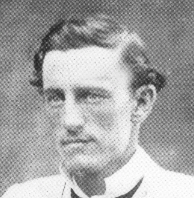 Frank Turner
By the mid-1850s, Toronto's northern limit was Bloor Street, a dirt road with bogs and hollows. In 1854 (at 16) Frank began a five-year civil engineering apprenticeship with Jackson, Peto, Brassey and Betts, railroad contractors for the Grand Trunk Railway. (Is it possible he met Casimir Gzowski who, in 1853, made his fortune building the Grand Trunk Railway?) Frank followed in the footsteps of his educated, adventuresome father and seven uncles. He left Ontario and went to Brazil for five years, helping build the Bahia and San Francisco Railroad; he then went to England and worked five years constructing railroads and London sewers.
By the time he was 31 (in 1869), Frank was chief engineer for Waring Bros, and McCandlish and building the first section of the Honduras Inter Oceanic Railroad from Puerto Caballos to the Rio Venta. Frank temporarily returned to Toronto when a Honduran revolution halted work on the second section of the railroad. Frank's father, Robert John, died in 1872, at 77 but Frank spent another decade in Brazil and Argentina before "retiring" to Bracondale in 1882 at the age of 44.
Frank presumably came home occasionally to visit his family and oversee the Turner property. In 1880 he built Bracondale Post Office on the south-west comer of Davenport and Christie; it served the village of Bracondale which had sprung up around the original estate, taking its name from the Turner home. Although four of his siblings had married and left Toronto by the time Frank came home to stay, his spinster sister Polly and his stepmother, Nura, still lived in Bracondale Hill. (The only other unmarried sibling was the youngest child, Charles Conrad, a grain merchant in Winnipeg.) Frank also came home to new neighbours on the escarpment. Marmaduke Matthews built "Wychwood" in 1874 and Alexander Jardine "Braemore Gardens" in 1877; both were just east of "Bracondale Hill".
Far from "retiring", Frank flung himself into many enterprises besides managing the family property. He was elected deputy reeve of York township and was a member of the county council for several years; he fought for, and eventually got, a street railroad built along Davenport Road, becoming its first president; he was a life member of the St. George's Society and of the Sons of England; from 1887-1894 he was president of the Albany Club (a Conservative gentleman's club founded in 1882); he sat as a director on the first board of The Empire (later Mail and Empire) newspaper and he raised money for a new Anglican cathedral on Howland Avenue.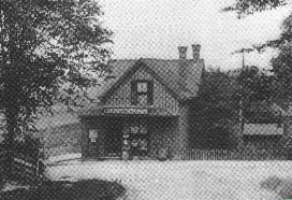 Bracondale Post Office (c 1890)
Frank and his sister Polly were both involved in fund raising for what was supposed to become St. Alban the Martyr Anglican Cathedral on a site between Howland and Albany Avenues. Although the sod was turned in 1885, the project was never completed. The chancel for the altar and choir stalls eventually became a parish church capable of holding a congregation of 300. In this church are several magnificent stained glass windows donated in memory of Robert John and his wife Maria, Frank and his sister Polly. The windows are of various saints and at the bottoms are the coat of arms and the crests of the Turner family.
In 1886 Frank's stepmother died and was buried in St. James Cemetery, although not in the Turner plot; her maiden name lives on in Rains Avenue.
In 1900 Frank sold about 200 lots below Davenport Road; a map advertised the lots as being in "Bracondale Estate, in the City of Toronto". The lots were in the area bounded by Yarmouth, the CPR tracks, Christie St. and Manning Ave. Polly died in 1906 at the age of 69; Frank three years later at 71. They are buried with their father in St. James Cemetery, close by several members of the Baldwin family. Just months before Frank died, Bracondale and Wychwood were annexed to the City of Toronto.
Frank left a sizeable estate to friends and relatives (including one sister, one full brother and three half-brothers). He left furniture and a yearly stipend of $600 to Maria; to his nephew John Ashworth Turner (obviously a favourite), he left pins, rings, coins and curios, clocks and watches, pictures and photos. To several other people he left drawings and paintings, opal earrings, diamond and sapphire rings, clocks and watches and a gold nugget pin from the Klondike. To brother Thomas he left $600 a year and to the other three brothers $10,000 each, and, as long as they were not convicted of any criminal act, he left $1,000 to each of approximately 21 nephews, nieces and children of friends. To six women he left $500 each. And there was real estate and the family home itself, Bracondale Hill. This was to be divided with one half going to his full brother (Robert Charles) and a quarter each to two of his half brothers, George Richard and Charles Conrad. His estate was worth at least $100,000, a princely sum in 1909, when an eight-room brick house cost about $ 1,600.
Over the next few years, Frank's heirs developed some of the family property into a subdivision called "Bracondale Hill Park". They retained their own five-acre block, laying out more than 100 large lots to the north and west of their own site. The large lots were sold with strict building restrictions including the minimum to be spent on each house ($4,000, $5,000 and $7,500 depending upon location.) (We know that in 1922 the lot at No. 47 Turner sold for $2,800 with a minimum of $5,000 to be spent on the house.) Frank's executors were his youngest sibling, Charles Conrad, and a close family friend, lawyer Alfred E. Hoskin, both of Winnipeg. Maybe Charles Conrad bought out his siblings' shares in the old homestead because at some point he moved back into "Bracondale Hill", the house where he was born. He died there in 1932.
City council minutes from 1930 show that the city expropriated the block for a city park, paying Charles Conrad $ 105,000 ($85,000 then and $20,000 more when he gave up possession of the house and land). He was ill and virtually bed- ridden with arthritis, so council gave him two years to remain in the house; he died at 80 before the two years ended. He is buried in Mt. Pleasant Cemetery. Conrad too left a sizeable estate of complicated trust funds, but first, before any other payments were to be made, he left $15,000 to his housekeeper Thirza Gwynn as a mark of appreciation for her long and faithful service.
"Bracondale Hill" was boarded up for five years before the city demolished it on April 30, 1937. Fifty years later, Leighton Reid, a local lawyer and writer, was instrumental in having the Toronto Historical Board place a plaque in Hillcrest Park.
This first appeared in The York Pioneer, 1999 (Vol. 94). Audrey Fox lives with her husband and three sons in a house across from Hillcrest Park where "Bracondale Hill" stood for 90 years.