One of the finest tree collections in North America is to be found in Mount Pleasant Cemetery. The landscaping at Mount Pleasant follows a plan developed in the late nineteenth century to provide an arboretum for public enjoyment. Practically every tree that will grow in this climate is found here. Many trees bear small signs with their names. There are hundreds of varieties of trees in Mount Pleasant Cemetery, ranging from rare introduced trees to oak trees that were mature when Mount Pleasant Cemetery was founded in 1873. Many specimens have been named Heritage Trees because of their fine condition and venerable age. Over the years, many varieties of fruit and nut trees have been planted, attracting many birds and small animals. Along with its treasure- trove of trees, Mount Pleasant has a vast range of flowering shrubs and herbaceous perennials. An arboretum guide with alphabetical index and map is available at the Cemetery headquarters.
This cemetery was established on the only former two-hundred-acre farm lot that was not subdivided when acquired. In the early nineteenth century, citizens who died in Toronto, and who were not Anglicans or who were non- residents, were buried at Potters Field in Yorkville, on the north-west corner of Yonge and Bloor. That cemetery had become crowded and public opposition was growing, so the Toronto Burial Grounds trustees bought the Necropolis in 1855 and, in 1873, purchased this lot from the Cawthra family. They engaged H. A. Englehart to design a park-like burial ground with ponds, cascades, ducks, swans, and lush plantings.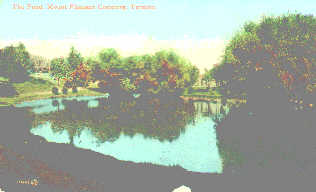 Old postcard showing one of the ponds that used to exist in Mount Pleasant Cemetery as part of its original plan.